Lord Mandelson launches Hull's plan to 'transform' city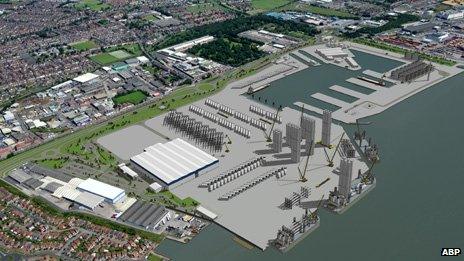 A plan to attract £1bn of investment and create 7,500 jobs in a "major economic refit" would "transform" Hull.
Launching the 10-year City Plan, Lord Mandelson - High Steward of Hull - said the region needed to focus on renewable energy and heritage.
The council said it aimed to "break the cycle of deprivation" by ensuring jobs were created for those on benefits.
Hull has the highest unemployment rate in the UK, with 8.6% of the population claiming jobseekers' allowance.
The plan, put together by a group of people from across the public and private sectors, was launched at an event at the University of Hull attended by hundreds of local business people.
It sets out 65 projects over the next 10 years, including a delayed £200m wind turbine factory and development of a cruise terminal near the city centre.
Lord Mandelson, recently appointed the high steward, said: "It's not a new look, it's not a spray-on, it's a very major economic refit of both the city and the region, drawing on its natural advantages.
"It's taking the unique assets and advantages of this city, enabling them to invest in those so not only does the city take off, but as it lifts, it takes the region with it."
"We've got a fantastic pedigree going back many years of great maritime history and I think the sea, with the renewables industry, is something we are again going to see coming to the fore," he said.
"A lot of this is going to be driven by the private sector... but I hope we're going to get government support as well."
Related Internet Links
The BBC is not responsible for the content of external sites.