Full Sutton prison officers injured in jail attack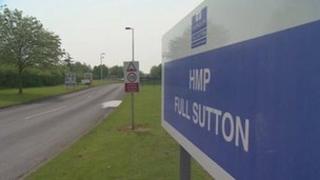 A prison officer has been taken hostage and attacked by three inmates at a maximum-security jail near York.
The incident on Sunday at Full Sutton prison in East Yorkshire lasted four hours, the Prison Service said.
The male officer suffered a broken cheekbone and has been discharged from hospital. A female colleague who tried to help him suffered cuts to her arm.
The North East Counter Terrorism Unit, which is investigating, said two of the suspects were aged 25 and the other 26.
The men are not in prison for terror-related offences, a spokesperson for the unit said.
In a statement, the unit said it would take time to establish the full details of what had happened,
It added: "Searches by specialist teams are underway within the prison for any evidence which may assist the police inquiry."
Police had been called to a report of a "hostage situation" at the facility at 16:30 BST on Sunday.
'Violent incident'
The BBC's Ed Thomas said prison officers in riot gear were brought in to end the incident.
The Prison Officers Association (POA) said it was sending a national representative to the jail to determine exactly what happened.
Steve Gillan, POA general secretary, said: "The POA are aware of the attack on two prison officers at HMP Full Sutton including a hostage incident.
"Until the full facts of the incident are known, we do not wish to comment further for fear of compromising any police investigation.
"We can confirm that officers sustained injuries and, had it not been for the professionalism of prison officers dealing with this violent incident, the outcome could have been worse."
Michael Spurr, chief executive of the National Offender Management Service, said the terrorism unit was investigating the motives behind the incident.
He said: "This was a serious incident and my first thought is with the officer who was taken hostage. We will do all we can to help him recover from this experience.
"I want to commend all staff involved for their great courage and professionalism."