Petrol bomb attack on North East Lincolnshire mosque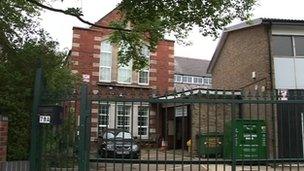 Police have arrested two people after a petrol bomb attack on a mosque in Grimsby.
The Grimsby Islamic Cultural Centre was targeted by arsonists on Sunday, despite an increased police presence in the area following another attack on the complex three days ago.
A number of people were inside the building as a meeting was taking place at the time.
Humberside Police said nobody was injured in the attack.
The force said the fire was discovered by an officer who was patrolling the area following the attack on Thursday.
Eleven teenagers were arrested after that incident which is said to have happened after a party spiralled out of control.
Humberside Police said it was too early to speculate on the reason for the attack on Sunday.
Officers had asked the organisers of a march in support of the military earlier to take an alternative route and avoid walking past the mosque.
However the march, in which 200 people took part, proceeded as planned from the cenotaph in Grimsby to the war memorial in Cleethorpes.
A spokesman said no arrests were made.
The mosque's imam, Ahmad M Sabik, thanked the centre's neighbours for their support following the attack.
He added he was worried about the safety of people attending the mosque.
The mayor of North East Lincolnshire, councillor Peggy Elliott, said she was "very sad" about the incident.
She said: "We are a very quiet tolerant, peaceful town and when I heard about this I was appalled."
A police spokeswoman said of the petrol bomb attack: "The force is currently aware of a number of messages which have been posted on social networking sites by a small minority of individuals.
"These messages appear to be an attempt to incite trouble by posting messages inviting people to assemble and cause trouble at particular locations.
"Those people should be aware that we are monitoring these sites in Humberside and we will take action against those intent on attempting to incite violence or post messages of a racial nature."
Related Internet Links
The BBC is not responsible for the content of external sites.