East Riding Council 'lacks vision' over rail route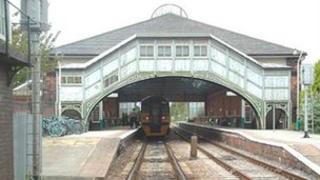 Plans to restore a railway line, closed in the 1960s, have been dealt a "devastating blow", according to campaigners.
East Riding of Yorkshire Council has confirmed it will no longer protect the route of the Beverley to York line from housing development.
The Minsters' Rail Campaign said the decision showed a "lack of vision" and could mean the end of their campaign.
The council said its decision would not prevent the line's reinstatement.
George McManus, chairman of the campaign group, said: "This is a truly devastating blow to our campaign to develop modern infrastructure which would have given East Yorkshire real economic advantage.
"Securing route protection from development pressure was the reason we set up the campaign.
"This decision illustrates a lack of vision at the heart of the East Riding Council which is stuck in the past and motivated by short-term gains rather than long-term benefits."
Campaigners want to see the 34-mile (55 km) line reopened as a fully operational part of the national rail network but the estimated cost of the scheme would be more than £200m.
John Craig, from the strategic planning team at the Conservative-run East Riding Council, said if the investment was available then the council would support the proposal to restore the line.
He added: "We are fairly confident the route can still be delivered in the long-term. Most of it would run through open countryside and the local plan doesn't seek to promote significant development in the open countryside."