BBC Radio Humberside wins Station of the Year award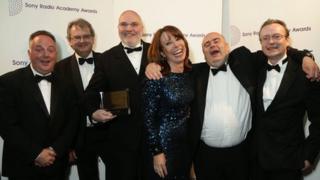 BBC Radio Humberside has been named Station of the Year at the Sony Radio Academy Awards.
The accolade was handed to editor Simon Pattern at a ceremony in London on Monday night.
He said he was "utterly gobsmacked" to hear the station had won and thanked his "wonderful" team.
The award comes a year after the station's presenters Betty Smith, 90, and Beryl Renwick, 86, became the oldest winners of an academy award.
BBC Radio Humberside won the category for stations with a potential audience of between 300,000 and one million listeners.
It was in a shortlist of three with BBC Tees and JACKfm Oxfordshire.
Speaking at the awards ceremony, Mr Pattern said: "I am utterly gobsmacked. I am so proud, so proud of the team because there is no other way to describe why the radio station is so successful."
Award judges said the station "stood out by demonstrating their ability to not only reflect their locality but to involve the station in the issues that mattered most to their audience".
In a statement, the judges said: "They achieved this with passion, professionalism and high levels of production, together with presenters who clearly understood how to demonstrate the importance of local radio to the people of Humberside and make a difference to their daily lives."
In 2012, Betty Smith and Beryl Renwick won the entertainment award category for their regular appearances on David Reeves' show to discuss their week's activities.