Cockburn family killed in Laceby A18 crash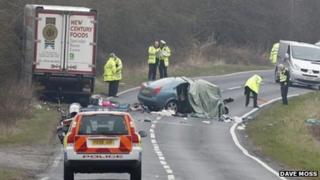 Police have named four members of a family of five killed when their car was in collision with a lorry on the A18 near Grimsby.
David Cockburn, 48, his daughters Carley Ann, 21, and Bethany, 18, and Bethany's two-year-old daughter Lacie Jade Stephenson died on Friday.
The fifth person who died has not yet been officially identified.
The family, from County Durham, were travelling to Skegness for a dance competition when the crash happened.
Three family members died at the scene in Laceby and two others died in hospital.
'Dancing with angels'
The lorry driver suffered minor injuries.
The family had left Chester-le-Street and were on the way to Butlins where Carley Ann and Bethany were due to take part in the dance competition.
Chris Baron, resort director, said: "We are all shocked and stunned by this tragedy and our thoughts go out to the extended families of the victims."
He said they were offering support to the other competitors and their families.
Meanwhile, hundreds of people have left messages on a Facebook tribute page to the family.
One person wrote: "So so sad xx dancing with the angels now x R.I.P xxx."
Dangerous road
Another posted: "Dance in heaven beautiful angels x."
Supt Tracy Bradley, of Humberside Police, said it was "far too early to speculate" what had caused the collision.
"Our thoughts go out to the friends and relatives of those who lost their lives at this sad time," she said.
The Grimsby stretch of the A18 featured in a BBC television programme, Britain's Killer Roads, in 2011.
The programme claimed it was 25 times more dangerous than the average British motorway, with 20 crashes in the previous three years.
It was also found to be the UK's highest-risk stretch of road for car drivers in a nationwide survey conducted by the Road Safety Foundation in 2010.