Multi-million pound grant for Hull green energy power plant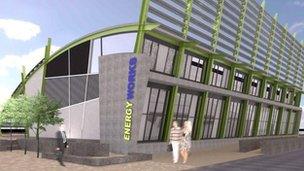 A renewable energy project in Hull has received a £19.9m grant from European Union to fund its building.
The money given to the Hull Energy Works is one of the largest ever grants from the European Regional Development Fund for a UK project.
The £150m power plant will be located in the heart of the city by the banks of the River Hull.
The facility will turn domestic waste into gas which will then be burnt to create energy.
The company behind the scheme claims it will provide enough electricity for 25,000 homes and reduce the amount of waste sent to landfill by local councils by 90%.
The grant was announced by communities minister Baroness Hanham as she visited the site.
She said: "Supporting this Hull-based company with public funding to pioneer these cleaner, more efficient technologies and sharing the learning gained from operating the plant, will help to roll out similar facilities elsewhere in the UK and around the world.
"This investment will create highly skilled jobs and contributes to the Humber area's growing reputation as one of the best places in the world to develop environmental energy businesses."
Related Internet Links
The BBC is not responsible for the content of external sites.