Salt marsh on Cleethorpes beach to be pushed back 30m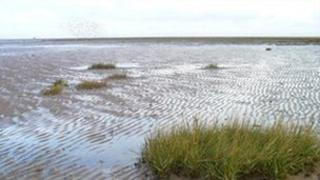 A line that restricts salt marsh from being removed from Cleethorpes beach is set to be pushed back 30m, a North East Lincolnshire councillor confirmed.
Councillor Peter Wheatley said Natural England had agreed for the "imaginary" line to be moved but was waiting for a written confirmation.
Salt marsh is protected by UK and European law.
The current line runs across the beach from the promenade handrail next to the leisure centre car park.
It is set to be moved 98ft (30m) towards the leisure centre building.
Mr Wheatley feared the thick grass would overrun the beach and affect tourism.
'International importance'
He said: "We want to preserve as much of the beach area in Cleethorpes as we can. The further we can move this line back the larger the beach will be.
"Hopefully, we'll keep attracting more and more tourism during the summer season. The economy in Cleethorpes is based upon tourism coming in."
Mr Wheatley said the line could be moved back within six weeks and would be marked by three buoys "to make sure the salt marsh doesn't encroach".
A spokesman for North East Lincolnshire Council said the decision to move the line was "yet to be formally agreed but looked promising".
The salt marsh provides a habitat for wading birds and other animals and plants.
Natural England had described the site as being of "international importance for its biodiversity".
The area is protected with a designated Site of Special Scientific Interest (SSSI) classification.