Lord Mandelson picked for High Steward of Hull post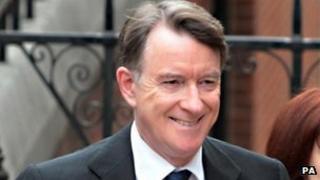 Lord Mandelson has been offered the newly resurrected ceremonial post of High Steward of Hull.
He will follow in the footsteps of his grandfather, Labour foreign and home secretary Herbert Morrison, who was High Steward of Hull from 1956 to 1965.
Former Tory MP Virginia Bottomley has been chosen for the rejuvenated ceremonial role, the Sheriff of Hull.
The Queen gave the city permission for the two ancient posts to be reinstated after they were abolished in 1974.
Lord Prescott, who as a Labour MP represented Hull East from 1970 to 2010, said he was surprised when he heard Lord Mandelson had been selected for the ceremonial role.
'No interest'
He wrote to the council asking "for further information" after hearing of the decision to appoint the former business secretary and European commissioner, the Labour peer said.
"I am surprised it wasn't discussed with me earlier but I will continue to do what I have done for the last 43 years - to promote Hull and fight to bring jobs and investment to the city.
"I also have no interest in being a steward again - I did that job on the liners for 10 years."
The two ceremonial roles were scrapped following a local government reorganisation.
The holders of the posts will act as ambassadors for the city and attend civic events, Hull City Council has said.
The high steward will serve for 10 years and the sheriff for three.