New jobs in Hull after meat company wins supermarket contract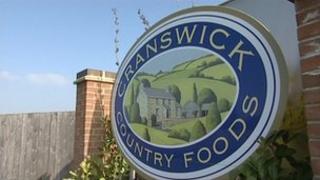 More than 100 jobs will be created in Hull after a meat processing company announced plans to open a new packing plant.
Cranswick Country Foods has bought the former Fishgate building in the city's William Wright Dock.
The firm said the expansion was down to winning a £30m contract to supply pork products to a national supermarket chain.
It is expected that the new facility will open by the end of March.
The company, which has its headquarters in East Yorkshire, employs 5,000 people across the region and supplies 25% of the UK's premium pork products.
It said it would initially create 100-120 retail packing jobs, "with the expectation of further recruitment in the coming months".
Fishgate was a £5.5m custom-built fish auction house which opened in 2001.
It closed two-years ago with the loss of 16 jobs after a shortage of fish supplies made it financially unviable.
Chris Aldersley, who manages the company's pork processing operations, said: "The Fishgate building was an ideal facility for us to convert to retail packing due to having originally been built to a very high standard food processing facility.
"We are proud to be investing into the city's economy and to be in the position of opening up more than 100 new vacancies to the local community."