Suspected sewer collapse causes closure of Beverley road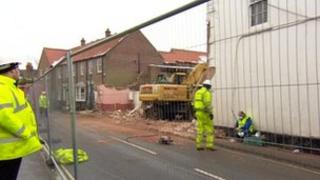 A busy road in an East Yorkshire town is set to be closed for up to a week after a suspected sewer collapse, council officials have said.
Keldgate in Beverley was shut last week after a 4m (13ft) wall was demolished after cracks appeared in it, leading to fears it could collapse.
East Riding of Yorkshire Council said that an underground spring might have caused damage to a nearby sewer.
Motorists in the town have complained of delays caused by the closure.
'Very frustrating'
Traffic is being diverted away from area, causing one taxi driver to claim the town is "gridlocked" at rush hour.
The driver, who works for Westholme Cars, said: "It's very frustrating."
"It's one of the main thoroughfares through Beverley.
"It causes a detour of two or three miles and a quarter of an hour."
The council said: "There is a serious dip in the carriageway and pavement and the council suspects that there is a void under the road, which will need repairing before the temporary road closure can be lifted."
Nigel Leighton, director of environment and neighbourhood services at East Riding of Yorkshire Council, said the work was "far more complicated than first envisaged".
He said: "Once we started dismantling the wall, which was completed on Friday, it became evident the problem was underground.
"We are not able to commence our excavation in order to find out what those problems are because we've got all the Beverley main services running down the carriageway: gas, electric, water and broadband fibre optic cables, etc.
"The council understands the frustrations of motorists and the travelling public, but must ensure that these works are carried out in a diligent and careful manner so as to avoid causing damage to vital services."