East Yorkshire town's cobblestones saved after protests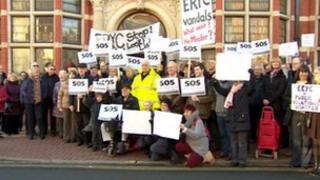 A plan to remove the cobblestones in an East Yorkshire town has been abandoned after protests from residents.
The stones, known as setts, were due to be taken up as part of a £2.5m revamp of Beverley's Saturday Market area.
East Riding of Yorkshire Council said it had amended the scheme after meetings with local campaigners and English Heritage.
Beverley Civic Society, which protested against the plan, said it welcomed the revised scheme.
The council originally said the setts needed to be removed as they could pose problems for less able-bodied people and those using wheelchairs and prams.
'Re-laid by hand'
The plan attracted two protest marches through the town.
The council said the revised scheme "will see almost all of the setts taken up and re-laid, by hand".
Some setts will be removed at crossing points and stored for future use in the town.
Councillor Stephen Parnaby, leader of East Riding of Yorkshire Council, said: "I am delighted that, following these further discussions with English Heritage and the Beverley Civic Society, an agreement on this element of the Saturday Market maintenance scheme has been reached, pending discussions on some of the detail."
A spokesperson for the Beverley Civic Society said: "We welcome the retention and storage of historic materials for reuse within the town and are looking forward to further discussions regarding the scheme development."
The council said the changes to the redevelopment would mean an additional 10 weeks of work at a cost of £150,000.
The work is scheduled for completion in early 2014.