Yorkshire Ambulance Service 'took half an hour' to reach dying boy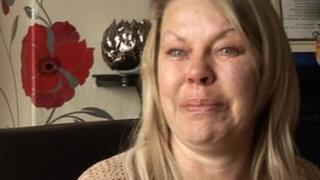 The mother of a 10-year-old boy who died of an asthma attack has claimed it took an ambulance half an hour to reach her dying son.
Jay Strand died at home in Snaith, East Yorkshire, on the night of 10 December.
His mother Donna Hellewell, 46, said she twice rang the service before the ambulance eventually arrived.
Yorkshire Ambulance Service said "First and foremost, we would like to express our deepest sympathy to the family at this sad and difficult time."
Its statement added: "We have been in touch with them directly and have made arrangements to meet with them to discuss their concerns and answer any questions they have."
Ms Hellewell said her son was getting ready for bed when he suffered the attack.
She said: "When I got to him his face was just black.
"My mum rang the ambulance first and then I took over and asked them if an ambulance had been despatched yet. It was like talking to a tape recorder. They're telling me to lay him on the floor and nip his nose. We'd already done all of this. I was saying: 'There's no response'.
'Legal action'
"If they'd (ambulance service) got here in time, put him on a nebuliser or if the doctors would've allowed me to have one at home, I could've saved him.
"They didn't come in with a bit of equipment - nothing. They just came in started doing [CPR] to him and I started screaming: 'Where've you been? Why's it taken you so long to get here? He's dead'."
Jay was taken to York Hospital by ambulance where he was pronounced dead.
Under Department of Health targets, ambulance services in England are expected to reach at least 75% of immediately life-threatening calls within eight minutes.
As at the end of December, the year-to-date figure for Yorkshire Ambulance Service was 75.68% and for the Hull and the East Riding area it was 80.07%.
Ms Hellewell said she was planning to take legal action against the ambulance service.
"Why didn't they come in with the equipment? Why didn't they shock his heart? I keep asking all these questions," she said.
"There was nobody here for us that night. There was nobody here to help us. We're all suffering now. It's pure heartache. He should be out there playing with his friends. It's just a living nightmare."