Deputy Humberside PCC gives up council allowance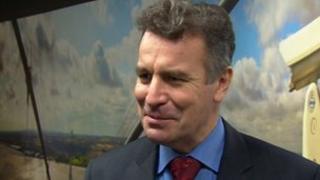 The deputy Humberside police and crime commissioner has said he is giving up his council allowance of almost £11,000.
Paul Robinson sits as a Conservative member for the Howdenshire ward on the East Riding of Yorkshire Council.
Last month, members of a police scrutiny panel voted against appointing Mr Robinson over concerns about his ability to do both jobs.
Mr Robinson said he would remain a councillor.
Mr Robinson said: "I think I can balance the two roles. I'm confident of being able to do that."
He said he had taken advice from the council's monitoring officer and had removed himself from committees which dealt with policing issues.
'Legitimate concerns'
"I don't think there is any reason for me to think that I am going to be conflicted in so many issues," he said.
Mr Robinson said he took the decision to remain a councillor, but not take his allowance, after talking to family and residents over Christmas.
He said: "One of the concerns that was raised with me taking on the role of police and crime commissioner and also remaining as an East Riding of Yorkshire councillor was that I was in effect going to be taking an income twice from the public purse."
At a meeting in December, the Humberside Police and Crime Panel voted against Mr Robinson's appointment to the £45,000-a-year post by a majority of eight to one.
The panel's chairman, David Rudd, said: "We have discussed carefully what we believe are legitimate concerns over the proposed appointment.
"Particularly, with regard to the current capacity and experience of the nominated person to be able to dedicate the time required to fill this important public role the commissioner says it is."
The panel's vote was overruled by police and crime commissioner Matthew Grove.
Mr Robinson worked on Mr Grove's election campaign.