Campaign launched for East Yorkshire county flag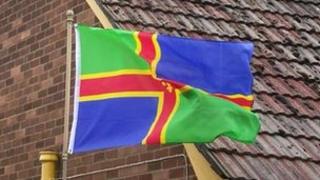 A campaign has been launched to design a county flag for the East Riding of Yorkshire.
Members of the public have been invited to design the flag, which will be put to a public vote in March.
The initiative follows recent similar successful schemes to design flags for the counties of Devon and Lincolnshire.
The man behind the idea, Andy Strangeway, said the flag was about reflecting the area's cultural heritage.
"It creates a love of your county, it creates a pride," he said.
"It's just a reflection of who you are and what you are."
Mr Strangeway, who describes himself as a campaigner and adventurer, said he intended to carry the newly designed flag around the county boundaries during a walk in August.
Yorkshire already has an official flag of a white rose on a blue background. It was first flown in Hull by the Yorkshire Ridings Society in 2008.
In 2005 BBC Radio Lincolnshire and Lincolnshire Life magazine ran a competition to design a flag for Lincolnshire.
The organiser of the Lincolnshire campaign Judy Theobald said the flag had been an "enormous success."
"You see it in shop windows," she said.
"You see it on local produce.
"It has been taken on-board by a tremendous number of people."