Fresh protest in Beverley over removal of cobbles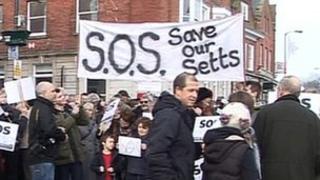 Campaigners opposed to plans to remove cobblestones from part of an East Yorkshire town have held a fresh protest march.
East Riding of Yorkshire Council plans to remove the cobbles, or setts, as part of a £2.5m revamp of Beverley's Saturday Market area.
The council said the cobbles could pose problems for less able-bodied people and those using wheelchairs and prams.
But Beverley Action Group said the scheme would harm the town's character.
The protest was the second to be held in the town against the proposals in less than a month.
Phillipa Wallwork Naylor, from Beverley Action Group, said: "Historically they fit with the style of the town and they are a perfect traffic-calming measure.
"I would be interested to hear if there has been any litigation over the last 200 years over anyone damaging themselves on the cobbles."
The Conservative-run authority intends to replace the market surface with block paving and renew adjoining York stone pavements.
It says the changes will make the area more pedestrian-friendly.