Burton Fleming floods: 'Weeks' to dry out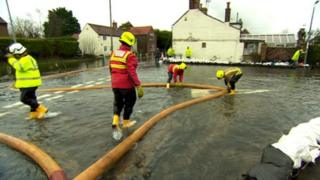 Residents in an East Yorkshire village who were flooded during Christmas have been told it may take weeks before waters subside.
A number of homes in Burton Fleming flooded after rising groundwater levels at Gypsey Race at Boynton.
East Riding of Yorkshire Council and the Environment Agency met more than 100 people to listen to people's concerns earlier.
A council spokesman said everything was being done to help residents.
Local homeowner Many Miller said the public meeting, which ran for about an hour-and-a-half, gave the community an opportunity to ask experts questions and hear about the latest developments.
Community spirit
John Skidmore, head of street scene services at the East Riding of Yorkshire Council, said five pumps were in the village attempting to move away excess water.
Mr Skidmore said about 29,000 litres of water was being pumped away from the village every minute.
"We've had unprecedented rainfall throughout the year," he said.
"Water is coming out of the ground. We've looked at whether we can divert that water upstream to flood farmland and divert it away... but we don't want to transfer the problem somewhere else.
"We can't divert the water at this moment in time but these are options we are continuing to look at."
Ms Miller said: "The support we've had from the emergency services and the community has been amazing. I've lived in the village for three years and I've met more people in three days than I've met in the time I've lived here."
A local business has provided sand and bags so residents can make their own sandbags if waters rise. This is in addition to council sandbags which have also been distributed.
In the meeting, residents were urged to keep waste water to a minimum as concerns about the village's sewage system were raised. Portaloos have been provided throughout the village.
The Environment Agency said river levels were expected to remain high as rain fell on saturated ground. Flood warnings apply to the River Derwent and River Hull.