Pumping operation to continue in Burton Fleming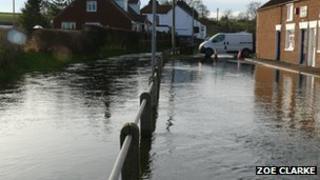 An operation to pump water out of flooded properties in an East Yorkshire village is continuing.
The East Riding of Yorkshire Council said a multi-agency operation remained in place at Burton Fleming.
People living in the village have been bailing water from their homes for several days after rising groundwater levels at Gypsey Race at Boynton.
The council said about 15 properties have been flooded. Further heavy rain is forecast for the weekend.
John Skidmore, from East Riding Council, said: "We are continuing to pump here because the majority is coming up from the ground but having more rainfall in the East Riding, which is saturated, could stretch us."
Community spirit
Parish councillor Keith Wells said: "The water level is about the same as it was last night but we have five big pumps, four from the Environment Agency, working in the village.
"I have to say over the last couple of days things appear to have been pulled together and I can only praise the work all the agencies are doing."
Mr Wells said villagers were showing an "absolutely marvellous" community spirit.
"The people that have been flooded are accepting it and are getting a lot of help from everybody in the village," he said.
The Environment Agency said a flood alert remained in place and pumps and officers would remain on site working to ease the situation.