Ex-mayor John Colebrook's death marks 'end of an era'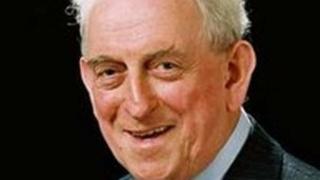 The former mayor of Great Grimsby Borough Council and North East Lincolnshire John Colebrook has died.
Mr Colebrook, 75, was the last mayor of the town in 1995-96 and mayor of North East Lincolnshire in 2009-10.
Councillor Keith Brookes, leader of the Conservative Group on the district authority, said Mr Colebrook's death "marked the end of an era".
Mr Colebrook died on 26 December. A date for his funeral has not been announced.
'Immeasurable pride'
Mr Brookes said: "Councillor Colebrook's passing marked the end of an era in North East Lincolnshire.
"He was well respected for being outspoken and he did not fear standing up and speaking out for the people he represented."
Chris Shaw, the leader of North East Lincolnshire Council, said: "He had immeasurable civic pride and was a huge credit to this authority and previously to Great Grimsby Borough Council."
Andrew de Freitas, leader of the Liberal Democrat Group, added: "He had been ill for some months and it's very sad to hear he has died."