Burton Fleming flood residents' plea for sandbags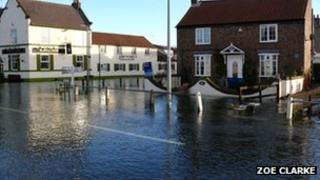 Residents in a village in East Yorkshire fear more homes could flood if they do not receive additional sandbags.
Parts of Burton Fleming flooded earlier this week after rising groundwater levels at Gypsey Race at Boynton.
Homeowner Zoe Clarke said extra sandbags were needed as water levels increased.
East Riding of Yorkshire Council said it had already supplied 1,000 sandbags and more were expected later.
The Environment Agency said a flood alert was in place and it was working with residents to ease the issue.
A spokesperson for the agency said it was working with the council as water levels stood at 77cm (30in).
'Desperate for help'
Ms Clark said sandbags had been delivered to the area when it initially flooded, but as water levels grew, more homes were in need of help.
"We've had fantastic help from local farmers who been delivering bails of hay to people's homes," she said.
"We've just got to try and divert the water the best we can. We're just desperate for anymore help we can possibly get. Now it's just the case of watching and waiting."
Council spokesman John Skidmore told the BBC: "We've provided over 1,000 sandbags to residents in Burton Fleming and that is continuing.
"We've got further sandbags if we need them. We are on site again to assess the operations to support residents and the community.
"It's been an ongoing operation for a number of days and we're working with the fire service and the Environment Agency to support the Burton Fleming community."
A number of routes in the area have been closed by police due to heavy flooding.
The Environment Agency said river levels remained high and further rainfall was expected.