Protest in Beverley over removal of cobbles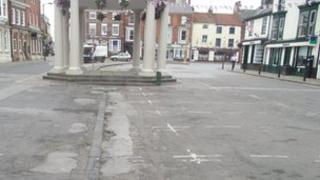 Campaigners in Beverley have marched through the town to protest against plans to remove cobblestones from the market place.
The stones are due to be taken up in January as part of a £2.5m revamp of the Saturday Market area.
Protest group Beverley Action, which is behind the march, described the plan as "a crude, inappropriate scheme."
The council said the project was based on feedback from public consultations.
The plans include replacing the market surface with block paving and renewing the adjoining York stone pavements.
Professor Barbara English, from the Beverley Civic Society, said that it was a mistake to remove the century-old stone setts.
Nigel Leighton, director of environment and neighbourhood services at East Riding of Yorkshire Council, said: "Saturday Market is one of the most heavily pedestrianised area's in the East Riding and the cobble setts can cause problems for less able-bodied people or those using wheelchairs and prams."