Humberside PCC: Proposed deputy rejected by panel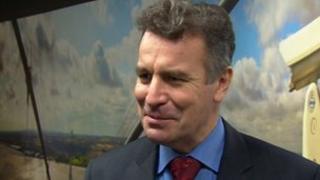 The appointment of a Conservative councillor as the deputy Humberside police and crime commissioner (PCC) has been rejected.
The Humberside Police and Crime Panel voted against East Riding councillor Paul Robinson's appointment.
The panel expressed concerns that Mr Robinson would not have time to be able to fulfil both his roles of councillor and deputy commissioner.
Humberside PCC Matthew Grove said he was "astounded" at the decision.
The panel voted against Mr Robinson's appointment by a majority of eight to one.
The panel's chairman, David Rudd, said: "We have discussed carefully what we believe are legitimate concerns over the proposed appointment.
"Particularly, with regard to the current capacity and experience of the nominated person to be able to dedicate the time required to fill this important public role the commissioner says it is."
In a statement Matthew Grove said: "At the hearing earlier today, Paul Robinson and myself gave what I believe was a very strong justification for my choice of deputy to the members of the panel.
"They then chose to exclude ourselves, the media and the public to deliberate behind closed doors.
"I have now received a copy of the press statement, but no further details as to why and how they have reached their recommendations. I am astounded that the panel has come to this judgment given the evidence that was presented to them."
The panel cannot block Mr Robinson's appointment to the £45,000 post, but Mr Grove said he would "carefully consider their decision".