Adam Vincent murder: Grimsby killers have sentences cut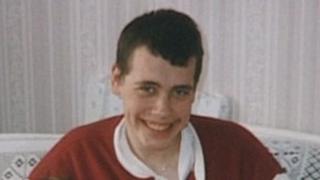 A father and his sons who were jailed for life for murdering a Grimsby man have had their sentences cut.
Adam Vincent's body parts were found in waterways across North Lincolnshire in 2011. He had been tortured in the days leading up to his death.
Lee Griffiths, 44, his sons Thomas, 23, and Luke, 20, and stepson Mark Jackson, 28, all of Scartho, Grimsby, were convicted of murder in January.
The men's minimum terms were cut by up to four years at the Court of Appeal.
A court spokesman said Lee Griffiths' 32-year sentence was reduced to 30 years, Luke Griffiths' term was cut from 26 years to 23 years, Thomas Griffiths' sentence was reduced from 27 years to 25 years and Jackson's minimum term was reduced from 29 years to 25 years.
It was claimed during their trial at Sheffield Crown Court that Mr Vincent had been killed by the group because they believed he had stolen drugs and money from them.
Mr Vincent had lived with the Griffiths men at Southfield Road in Scartho.