BBC Radio Humberside's Beryl and Betty bow out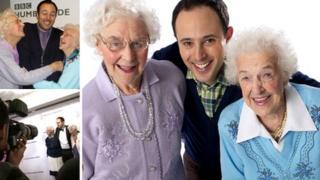 Talk of Michael Buble and luncheon clubs is not everybody's idea of riveting radio.
But a combination of infectious laughter, banter over trivial goings-on and juvenile antics has helped two pensioners from Hull to become household names.
Beryl and Betty stole the hearts of many at the prestigious Sony Radio Awards in May when they won in the best entertainment show category - with a combined age of 176, becoming the oldest nominees and winners.
Hull's answer to the Golden Girls have been broadcasting for more than six years on BBC Radio Humberside, alongside "young man" David Reeves.
They were more surprised than anyone to receive the award ahead of a shortlist of talent including comedian Frank Skinner.
'Laugh a minute'
Beryl Renwick, 86, and Betty Smith, 91, first went on the radio after visiting the radio studios in 2006.
When David asked live on air what Beryl had been doing that week, she replied "not a lot".
Most radio presenters would not want to receive such an abrupt answer to a question, but the three quickly established a giggles-a-plenty rapport.
The ladies met at the Ritz afternoon club in Hull in 1999 after their husbands died.
Their friends describe them as "laugh a minute" and "Tweedledum and Tweedledee" who often need a silencing nudge when talking about things they should not be.
Betty is described as the "gobby one but in a nice way" and Beryl the Michael Buble fanatic.
And the secret to their success?
"We're entirely different people. If we were both the same type of people, it wouldn't have taken off," explains Beryl.
Whether they realise it or not, they like to flirt, proving old age does not mean you are on the scrap heap.
They could be sitting anywhere talking happily, but for them it has been in front of a microphone.
David, who has been described by the duo as the rose between two thorns, said: "They are who they are. That is why the show has had so much success."
It has been a remarkable year for all of them. After winning the Sony award they grabbed newspaper headlines and have been interviewed on national TV several times.
BBC Radio 2's breakfast show host and One Show presenter Chris Evans described them as a "joy" when he met them.
Another six years?
However, Christmas Day marks the end of Beryl and Betty's broadcasting career.
"Thanks to all the people on Facebook and the listeners," said Beryl.
"Thanks to relatives, friends and to the BBC.
"David has taught us so much. Without him we wouldn't have that award. It's been a fantastic six years."
Betty chips in: "Shall we do another six then?"
The suggestion that they should do a special show when Betty reaches 100 receives the response: "I'll make it, don't you worry."
Beryl and Betty's Christmas special is on BBC Radio Humberside on 25 December from 13:00 GMT. The show will be available on the BBC iPlayer for seven days after broadcast.