Hull asks for more government help over homeless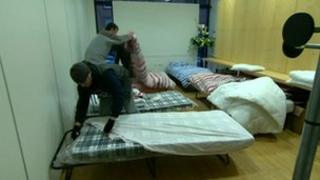 A council is writing to the government to ask why it has received less money than other local authorities to help homeless people.
Hull City Council said it is to be given £66,095 from the government's Homelessness Prevention Grant.
In comparison, Bristol City Council is to get £1,080,370.
The Department for Communities and Local Government (DCLG) said that the city council's "core Homelessness Grant has not been reduced".
Figures provided by Hull City Council show that Exeter, with half the population of Hull, is to get £502,618.
York City Council will get £405,052 and Gloucester City Council £377,329.
The council said that last year they dealt with 3,000 people seeking help and advice who were homeless, or at risk of homelessness.
John Black, portfolio holder for housing, said he could not understand why the city had received such a low grant.
'Positive resolution'
He said: "We welcome any funding that helps us to deliver the services needed but feel we must see if there is chance of gaining a greater allocation for Hull to continue the excellent work we do here.
"We will face challenges to delivering what we need to with the amount allocated and cannot work out why Hull's amount is significantly lower than comparable councils and we hope we can discuss this with the government and get a positive resolution."
A spokesman from the DCLG said: "Hull allocations were made on the same basis as the rest of England.
"The core funding level for each authority was set according to need at the outset, some years ago, of the Homelessness Prevention Grant scheme.
"Hull has also benefited from extra special grants to support tackling homelessness. "