Heavy metal Christmas service at Grimsby Minster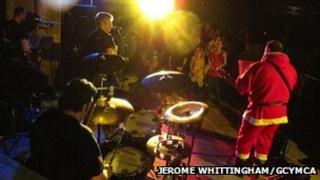 Grimsby Minster has hosted a heavy metal Christmas carol service to raise money for homeless charities.
The Very Heavy Christmas Carol Service was first held last year and is claimed by its organisers to be the only one in the UK.
As well as carols, the service on Saturday evening included specially written "Punk Poetry" lessons.
Event organiser Simon Cross said the service was a "a bit of a laugh for Christmas".
Mr Cross, who is the chaplain at the Oasis Academy in nearby Wintringham, said more than 300 people attended last year's event.
"After the event we were inundated with requests for another heavy metal carol service," he said.
"People love to get together for carols at Christmas, and it seems they particularly love something like this, where we take the traditional format and give it a bit of an imaginative twist.
"We had all kinds of people along, teenagers, pensioners, families, bikers, punks, and vicars.
"We're looking forward to even more this year, and to raising lots of cash for the homeless at Christmas time."
The service also featured a Christmas message read by local vicar and heavy metal fan the Reverend George Smith.