Yorkshire Warriors choir claims charity CD is a success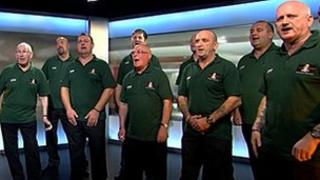 A choir of former soldiers from the 3rd Battalion Yorkshire Regiment have said their debut charity CD has sold 600 copies since its release six weeks ago.
The 12-track CD contains cover versions of old classic and modern pop songs as well as poetry.
It was recorded by a 20-strong choir called the Yorkshire Warriors, made up of ex-servicemen, to raise money for the regiment's benevolent fund, which supports former soldiers and their families.
Choir member Paul Langthorpe, who left the regiment in 2010, said the CD sales were averaging 100 copies a week and had so far raised £3,000, reflecting the "good feedback" the choir had received.
"I think people are buying it because they want to help us. We're so proud that we've achieved something for the guys.
"It's an absolutely outstanding effort by everyone involved," added Paul.
The choir was formed in February following the deaths of six soldiers from the regiment.
Cpl Jake Hartley, 20, Pte Anthony Frampton, 20, Pte Christopher Kershaw, 19, Pte Daniel Wade, 20, and Pte Daniel Wilford, 21, died when a bomb exploded under their vehicle in Helmand province on 6 March. Also killed was Sgt Nigel Coupe, 33, who was on secondment to the regiment.
New material
The CD also features an original poem penned by Paul and read by Angie Stone, whose son Gregg, 20, from Hornsea, East Yorkshire, was shot during an operation to rescue a policeman kidnapped by insurgents in June.
"The CD's fantastic. Every song has a story to it about going away and coming home again," said Paul.
The all-male choir, whose members - aged between 24 and 74 - rehearse every fortnight in Leconfield, East Yorkshire, is appealing for more ex-soldiers to join including women.
With a new CD in the pipeline and a gig with 70s pop group Showaddywaddy planned in Hull for February, the group is now hoping to give the Military Wives Choir a run for their money.
"We don't claim to be singers. We had nothing and we've just pulled in favours to get the choir going and to produce this CD," explained Paul.
"We're planning to release a new CD in the summer. It'll have songs that we like and some original material. If we can continue this [sales rate] to the second album that would be fantastic."