Goole flood report focuses on 'faulty' pumping station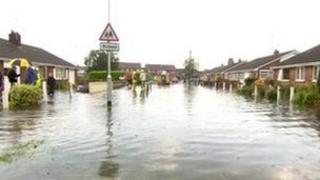 A pumping station in an East Yorkshire town was faulty or had failed at the time serious floods occurred there in the summer, a council has confirmed.
About 50 properties, including businesses and homes, were affected by flooding in Goole on 5 and 6 July.
At the time, Carr Lane pumping station was out of action after being flooded, an interim report by East Riding of Yorkshire Council (ERYC) has found.
A full report into the incident is expected to be published next summer.
However, due to the scale and high profile of the town's July floods, it was felt necessary to prepare an interim report, the council said.
'Sequence of failure'
While investigations in to the circumstances surrounding the floods continue, the early findings indicate that rainfall in Goole on 5 and 6 July was not exceptional.
But a "failure or fault" at Yorkshire Water's Carr Lane pumping station had occurred leaving it inundated with water and unable to cope, the report said.
At the time, the station was in the hands of contractors from Yorkshire Water who were carrying out replacement and refurbishment work.
Yorkshire Water later admitted that storm waters on 5 July had damaged some of the pumps at Carr Lane.
Due to the complexity of the incident, a final report in to the cause of the July floods would not be complete until summer 2013, the council said.
In the meantime, local residents, Goole town council and Yorkshire Water would all continue to be involved in the inquiry into "the exact sequence of failure", it said.