Smoking warning after 'intense' fire at Hull house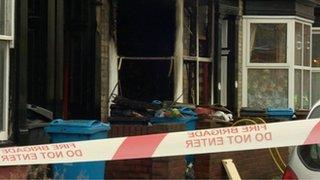 People are being warned about the dangers of smoking at home when tired after an "intense" fire shattered the glass in a house window.
All three occupants of the house escaped the blaze, which took place on Grove Street, in Hull, on Saturday.
One man was taken to hospital suffering from the effects of smoke inhalation.
Humberside Fire and Rescue Service said the fire was caused by "smoking-related materials" and have urged householders not to smoke at home when tired.
'Proper ashtray'
Keith Evans, from the fire service, said: "This was an intense fire which was caused by smoking materials and highlights the need for smokers to put safety first.
"It's important to never smoke when feeling tired, always use a proper ashtray that's made of a material that can't burn, such as glass and always fully extinguish cigarettes when you've finished smoking."
The fire broke out in the living room of the property, Mr Evans said.
He advised all homes to be fitted with a smoke alarm on each floor of the property which is tested once a week and to plan an escape route in the event of a fire.