Tophill Low nature reserve otters flooded out of home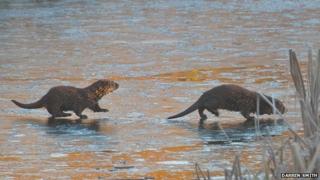 Flooding in East Yorkshire has led to a rare sighting of two otter cubs and their mother at a nature reserve.
The sighting was made last week at Yorkshire Water's Tophill Low water treatment works near Driffield, which is also a public nature reserve.
Reserve warden Richard Hampshire believes the otter family was forced into the open by recent flooding.
It is the first confirmation the reserve has had for several years that otters have successfully bred there.
"We knew that we had a least one otter around the site, but this is the first confirmation we've had of a breeding success at the reserve in the last few years," said Mr Hampshire.
"The pictures capture the female with her two cubs, which we believe to be around two months old, playing on the ice which has covered much of our north marsh for the last week or so.
"Whilst nature created them as daytime hunters, historical persecution has generally changed their behaviour and now they are only usually seen around dawn and dusk, with daytime sightings tending to be quite rare.
"We believe that the mother and cubs have had to evacuate their nearby holt after it became flooded during the heavy rain, which is why we're seeing these cubs up and about slightly earlier than we'd normally expect.
"However, it's common for the mother to have at least three nearby homes available to her, so any move is unlikely to be stressful and from the pictures alone, they all look to be in good health and enjoying themselves."