Philip Larkin honoured at Hull Paragon station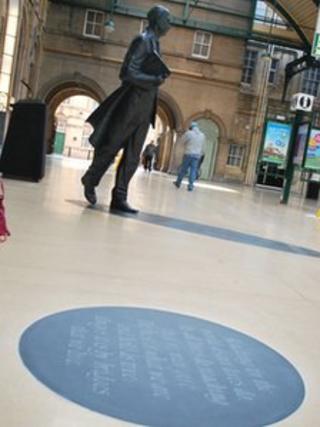 The poet Philip Larkin has been honoured at an East Yorkshire railway station that inspired his work.
Mr Larkin, who lived in Hull for over 30 years, was honoured with a bench at the city's Paragon station.
The circular, teak seat was fitted around a pillar close to the existing bronze statue of the former University of Hull librarian.
Organiser Carole Collinson, said: "He went up and down by train from Hull and knew the station well."
Ms Collinson, a member of the Philip Larkin Society added: "People think he was a recluse that lived in Hull and didn't go anywhere but of course he wasn't".
Paragon Station was mentioned in one of his most famous pieces, the Whitsun Weddings.
'Late getting away'
The statue of Mr Larkin was unveiled in 2010 to end the series of commemoration events marking the 25th anniversary of his death.
The bronze statue, which portrays the poet rushing for the train with a manuscript tucked under his arm and clutching a trilby hat, stands 7 ft (2.1 metres) tall on the concourse.
It is based on the opening line of The Whitsun Weddings in which he wrote 'I was late getting away'.
In 2011, five slate plaques featuring his poems were also set into the concourse of the station.
The statue and plaques were by Martin Jennings, who also created the statue of Philip Larkin's friend John Betjeman situated at St Pancras station.