Immingham docks coal train man rescued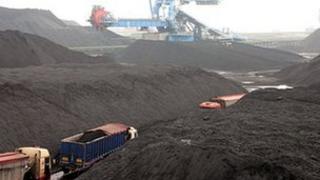 A drunken man who climbed into a train wagon heading to Immingham docks to be loaded with coal has been rescued after a passerby heard his cries for help.
Police who sent a helicopter to locate the train said the quick-thinking passerby probably saved the man's life.
"Had the train got to Immingham docks... he would almost certainly have been crushed to death," police said.
A 38-year-old Doncaster man has been charged with obstructing an engine using the railway and released on bail.
He is due to appear at North Lincolnshire Magistrates' Court on 17 December.
Humberside Police said the race against time to save the man started shortly before 01:00 GMT on Thursday when a member of the public heard someone shouting for help from the back of a train between Killingholme and Immingham.
Escape 'impossible'
Once the police helicopter had located the train it was stopped by British Transport Police.
Humberside Fire Service were also called out to help rescue the man, who was not able to get himself out of the wagon.
Paramedics checked him before he was arrested.
Insp Glen Munson of Humberside Police said: "I would like to praise the quick thinking member of the public who heard the man's cry for help and called police immediately.
"There is no doubt in my mind that the actions of this individual helped to save this man's life.
"Had the goods train got back to Immingham docks, it is highly likely that the carriages would have been fully loaded with coal by crane for a return journey to the power station.
"Once in the carriage, it would have been impossible for the man to escape without help and he would almost certainly have been crushed to death."