Flooding in East Yorkshire forces roads to close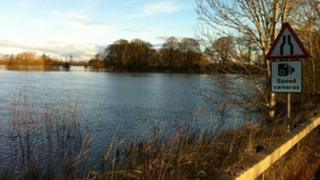 A number of roads in East Yorkshire have been closed due to flooding, according to the East Riding of Yorkshire Council.
Roads near the River Derwent were shut overnight after river water flooded the A163 near Bubwith and other roads.
The council said it continued to pump water away from the area.
A street in the seaside resort of Hornsea has been closed while Yorkshire Water attempts to reduce the water levels in the drains.
'Bit ridiculous'
The Environment Agency said that they expected the level of the River Derwent to "remain high" and a flood warning remained in force for the area but they were not anticipating any "serious problems".
One resident, who works in Stamford Bridge which is located on the River Derwent, told BBC News that he was concerned about the water levels.
"Yesterday the river was about a foot away from the top of the flood barriers," he said.
"The pump can only pump water back into the river, which to me is a bit ridiculous, when you are pumping water back in to come back in again.
"But, I do notice the barriers are working."