Biker Fergus O'Connell's funeral at Grimsby Minster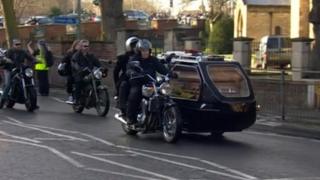 Hundreds of motorcyclists have attended the funeral of a motorcycling enthusiast in Grimsby.
Fergus O'Connell, 50, died suddenly at his home in the town on 7 November.
He was a member of the Motorcycle Action Group (MAG), a riders' rights organisation, and wrote a column for its magazine.
Mr O'Connell's coffin was transported to the service at Grimsby Minster in a sidecar and was accompanied by fellow motorcyclists.
His brother, Dean O'Connell, said: "Fergus left a letter with all his requests and he wanted a big funeral."
'Ride of Honour'
President of the MAG Ian Mutch said Mr O'Connell was a "larger-than-life character".
Mr O'Connell was a volunteer officer for the MAG and "would have met a lot of people" said Mr Mutch.
"He was an exceptionally good rider who did a lot of mileage," he added.
The service at Grimsby Minster, St James' Square, was led by the Reverend Steve Holt.
The cortege consisted of a "Ride of Honour" of 12 motorcycles with hundreds of motorcyclists following behind.