Humberston new homes plan rejected by council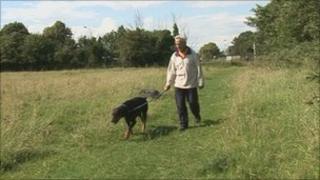 Plans to build 400 new homes on open fields at Humberston, near Grimsby, have been turned down following opposition from campaigners.
The developer said half the properties would be for retired people and another 25% sold as affordable housing.
North East Lincolnshire Council voted by five to four against the planning application at a meeting on Wednesday.
Campaign group Save our Fields said it was "very pleased" with the council's decision.
Nikki Hale, a spokesperson for the group, said: "We don't see why there's a need for housing when there's so many unfinished developments in Humberston and Grimsby.
"We have numerous brownfield sites, which should be considered before greenfield sites are sacrificed."
Conservative MP for Cleethorpes Martin Vickers said he welcomed the decision.
He said: "I hope that will be the end of the matter. I don't believe the infrastructure and public services are adequate enough to deal with that number of new properties."
The application was refused planning permission despite being recommended for approval by the council's planning officers.
Developer Keystone Developments said it was considering its options.