Humberside PCC considers changing force's name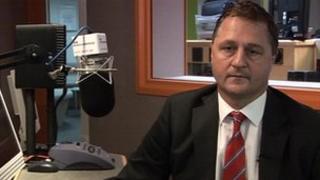 The Humberside police and crime commissioner (PCC) has said he would consider changing the force's name.
Matthew Grove said the term Humberside had been forced upon the people of East Yorkshire and northern Lincolnshire.
The Conservative, who will take office on 21 November, said he favoured the name Humber Police for the force.
However, he said changing the force's name was not a high priority and would only take place if it could be achieved at "little or no cost".
Humberside County Council was created during local government reorganisation in the 1970s and the term was also used for a number of public bodies including the police.
It proved unpopular and the county council was finally abolished in 1996.
It was replaced by four unitary authorities: East Riding of Yorkshire, Hull, North Lincolnshire and North East Lincolnshire.
Mr Grove said: "It [Humberside] was imposed on us by politicians in London more than 30 years ago and it took us nearly 30 years to get rid of it. I don't want to spend public money on a rebranding exercise but I do favour the word Humber over Humberside.
"It is not a priority, let us tackle policing first, but if we can at little or no cost change the force's name then that is something we can look at."