Cleethorpes Carnival to continue in 2013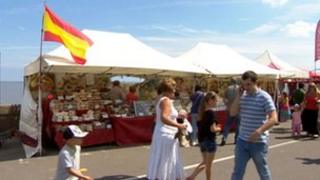 Fears that an annual street carnival in North East Lincolnshire would have to end have been quashed after a local company offered to sponsor the event.
Thousands of people visited what was billed as the last ever Cleethorpes Carnival in July.
Organisers said the event, which has been held for 36 years, could not continue because of a lack of funding.
Grimsby-based Young's Seafood Limited will help fund and organise the 2013 event, which will be held on 20 July.
Leonore Pidgeon, one of the organisers, said: "It's wonderful news for Cleethorpes that something so traditional as the Cleethorpes Carnival is going to continue because this year we really struggled with getting money together.
"But on the day everyone came out, the crowds came out, the floats came out and the sun came out and we had a wonderful day.
"It was very heart-wrenching and everyone was very happy but sad that they were involved in the last Cleethorpes Carnival."
Youngs has not disclosed the level of financial support it is giving to the event, which it described as an "important part of our local heritage".
The company said its staff would be encouraged to get involved in the planning stages and on the day of the carnival.
A meeting to discuss plans for the event would be held in the new year, it said.