Greencore workers win compensation over stopped pay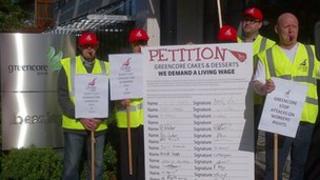 More than 400 workers at a Hull food factory are set to receive compensation after winning an employment tribunal over pay cuts.
Unite union said Greencore bosses did not restore overtime and enhanced holiday pay after staff agreed to suspend them to help the firm.
Greencore said its priority was the "long-term sustainability" of its site.
The amount of compensation is not yet known but Unite said workers could be entitled to about £1.2m between them.
'Dispute ongoing'
The union said workers agreed to temporarily suspend premium pay rates and enhanced holiday pay rates for 16 months from June 2010.
Unite national officer Jennie Formby said: "It's great news that the workers at this cake and dessert [factory in Hull] eventually got justice.
"However, this isn't the end of the matter and our members are now discussing next steps in the union campaign to restore fairness to the contracts of employment that were unilaterally and unfairly changed by Greencore after Unite pledged to mount this legal challenge."
Greencore, which supplies convenience foods to supermarkets, said it "acknowledges the recent decision in the tribunal case" but the dispute with the union over pay rates was ongoing.
It said: "Further tribunal meetings are scheduled to take place over the next few months to bring the case to conclusion. Until that time, it is far too premature to discuss the union claims.
"We believe that the management has a good dialogue with our colleagues at the Hull facility and our priority continues to focus on securing the long-term sustainability of the site and employment for the area. "