Hull memorial service for road crash victims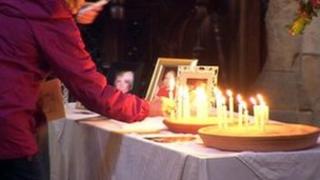 A special service to remember people who have been killed on Hull's roads has been held in the city.
The service, organised by Hull City Council's road safety team, took place at St Mary's Church.
The council said introducing 20mph speed limit zones and road safety training had cut the number of deaths from six in 2007 to three in 2011.
But the Lord Mayor of Hull and Admiral of the Humber, Danny Brown, said there were "still too many victims".
"The service offers a fitting occasion for grieving families and friends to pay their respects to their loved ones. [It] also serves to send a clear message to all road users to be careful because everyone who uses our roads is a potential victim," he said.
'Road crash memorial'
Gary Horth, transport development team manager at Hull City Council, said it had made "major progress in road safety".
Countdown timers, which show pedestrians exactly how long they have to cross the road, were installed on a busy crossing on Margaret Moxon Way on Ferensway in August.
Pedestrian and road safety training programmes were introduced in primary and secondary schools in 1992.
Mr Horth said: "It's important that we remember that we all have a responsibility to drive, ride and walk safely."
In 2002, a memorial was erected outside Hull's Streetlife Museum by the council. At the same time, a book of remembrance was opened in St Mary's Church so friends and relatives could remember loved ones who had died on the city's roads.