Hull MPs fight Seven Seas factory closure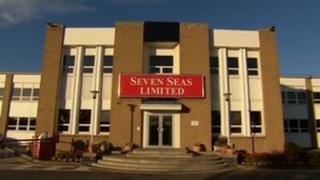 A Hull MP has vowed that he will not let a vitamins manufacturing giant close its city factory "without a fight".
Seven Seas announced last month that production at its plant in Hedon Road would be outsourced and operations transferred to London.
Hull East MP Karl Turner said he expected "loyalty" from the company.
Mr Turner, along with Hull MPs Alan Johnson and Diana Johnson, met managing director John Redman at Seven Seas.
The company said there would be a phased shut down of the factory in east Hull over a period of two to three years.
More than 250 people are employed at the site but Seven Seas is yet to disclose the exact number of job losses. A 90-day consultation process is under way.
'Hour of need'
Following the meeting earlier, Mr Turner said: "We made our position very clear. We will not allow Seven Seas to simply leave without a fight.
"Seven Seas has done very well out of Hull and I hope that this will be recognised by the company in Hull's hour of need.
"We expect management to come up with a genuine plan to stay in the city and to do all they can to look at an alternative to leaving the city.
"They've had a great deal of loyalty from this city, so I expect loyalty from them."
Seven Seas said it would "carefully consider any alternative proposals that are put forward" to the company.
At the time of the announcement, Mr Redman said the proposal came as a result of "the continuing difficult economic conditions that the company is facing" and that it had to "take action now" to ensure its future.