Fake cigarettes seized at Immingham docks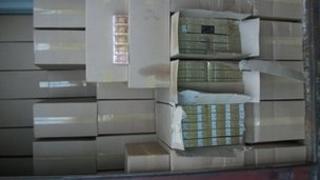 Smokers in North East Lincolnshire have been warned not to buy illegal cigarettes after 10 million counterfeits were seized in Immingham.
The cigarettes were found in a shipping container that had arrived from Singapore via Zeebrugge last Monday.
Officials warned they could contain a "lethal cocktail" of substances.
Trading Standards said the tobacco in illegal cigarettes could contain banned chemicals and other substances including sawdust, sand and plastic.
'Lethal cocktail'
Neil Clark, community protection manager for North East Lincolnshire Council, said: "We know smuggled cigarettes are often counterfeit meaning you have no idea what they contain. It's simply a lethal cocktail.
"Genuine, legal packets of cigarettes or hand rolled tobacco can be easily recognised as they should have the words 'UK duty paid' on the packs.
"All of this wording should be in English and there are health warning messages on both the front and back of the packet.
"The cheaper sale price often tempts adults into buying them particularly in the run-up to Christmas when money is tight."
The haul found at Immingham docks would have cost the Treasury about £2.5m in lost duty if it had evaded controls, the Border Force and UK Border Agency said.
Sam Bullimore, from Border Force, said: "This is a significant haul, which would have defrauded the public purse out of a large amount of money.
"We would encourage anyone with information about suspected smuggling to get in touch."