Hull shops claim lack of promotion affects trade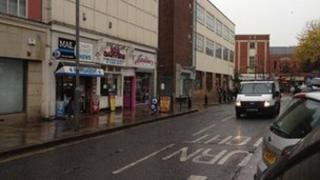 Traders in parts of central Hull claim they have been overlooked by the agency set up to promote the city centre to visitors.
Shop owners in the Chapel Street area said that Hull Business Improvement District (BID) had neglected them, despite firms being forced to fund the organisation.
One retailer said the lack of promotion was affecting his business.
Hull BID said traders received "excellent value for the levy".
Businesses in Hull city centre are obliged to pay a levy of 1% of the rateable value of their property to fund the Hull BID project.
The organisation runs events, funds marketing and promotion, as well as providing security and some cleaning services.
'Drive footfall'
Andrew McDonald, who runs an exotic pet shop in South Street, said: "To charge extra rates for the city centre then charge extra for Hull BID just seems to me to be charging twice as much for something they should already be doing.
"I haven't seen much work in this area that Hull BID's done, especially at this end of town.
"If they advertise this area, if they did something to bring people down this area it would be much better."
Kathryn Shillito, city centre manager for Hull BID, said she understood businesses were struggling in the current economic climate, but said the organisation was doing its best to support local shops.
She said: "Unfortunately, we don't have the resources to plough into very small individual areas but we do try our best to ensure there is a good spread.
"In our opinion we try and drive footfall to lots of different areas in the city centre.
"We believe at Hull BID that pound for pound we deliver excellent value for the levy they pay."