East Yorkshire campaign launched to promote North Sea lobsters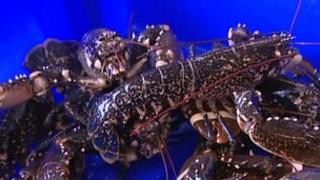 Fishermen on the East Yorkshire coast have launched a campaign to encourage local people to eat more of the region's shellfish.
The Fish on Friday initiative will offer cookery demonstrations and menu ideas to boost sales of lobsters and crabs.
The local fishing industry lands more than 30% of the UK's lobster catch.
Mike Cohen, of the Holderness Coast Fishing Industry Group (HCFIG), said about 80% of the catch was exported.
Mr Cohen said the industry was worth £9m a year to local fishermen, most of whom are based in Bridlington.
He added that a recent report showed that every £1 earned at sea generated between £3 and £7 on land in supporting industries such as ship repairers and food wholesalers.
Prized lobsters
According to Mr Cohen, the bulk of the exports go to France and Spain.
"We have a very good fishery on the east coast," he said.
"The cold water produces better meat and makes the lobsters prized in restaurants in Paris and elsewhere.
"I think traditionally shellfish has been part of the diet of Spain and France. It's that culinary tradition in those countries that we don't have here in the UK.
"Maybe there needs to be a bit of demystifying of how to prepare and cook them."
Mr Cohen added that the campaign was not in response to a drop in sales of shellfish on the Continent.
He said that there was "a remarkable resilience in the shellfish market in Europe despite, the problems in the Eurozone."
The bi-monthly cookery demonstrations will take place at a church in Hornsea.
The project's organiser, the Reverend Jamie Kissack from the Hornsea United Reform Church, said: "We see the Fish on Friday project as part of the bigger picture of developing projects around healthy living here in Hornsea.
"By that I mean healthy eating, but also developing a healthy community and strong economy."