Strike threat over Hull City Council bin job losses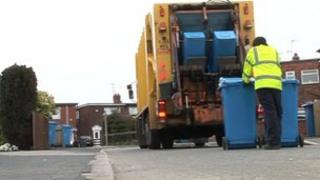 Refuse collectors in Hull have said they are prepared to take industrial action over proposed job cuts.
Hull City Council recently approved a move to fortnightly bin collections from April 2013 in an attempt to save £1m a year.
But a trade union claimed that the decision would lead to 36 compulsory redundancies.
The council said it was meeting with unions and that it was "too early as yet to know the full impact on staff".
Ron Wilkinson, from Unison, said the council had issued his union with a document which said they were planning to cut 12 lorry drivers and 24 refuse collectors.
Unison said that the workers had voted unanimously to take industrial action if compulsory redundancies take place.
Mr Wilkinson said: "We've got a very, very strong feeling of being let down by the management in this local authority regarding the excellent work our colleagues have done over the last 10 years in recycling and all the other measures to meet targets."
In a statement, Hull City Council said: "It is too early as yet to know the full impact on staff but weekly meetings have been organised to consult with the trade unions and the council, as with all decisions, will seek to minimise the impact on any staff that may be affected."