Do job losses mean the Humber region remains in recession?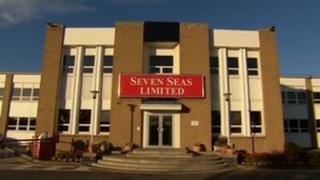 On Thursday it was announced that the UK economy had emerged from recession.
The Office for National Statistics said that gross domestic product (GDP) grew 1.0% in the three months from July to September, having contracted in the previous three quarters.
In contrast to the national news, the last few days has seen a number of local firms announcing large job losses.
So, is Hull and the surrounding region still in the midst of a recession?
Dr Michael Nolan, a senior lecturer at the University of Hull Business School, said a national economy was a "sum of its parts" and different areas could experience vastly different economic fortunes.
"It is quite possible for some parts of the country to grow while others are actually still contracting," said Dr Nolan.
"So, it is possible to have a geographically defined area of recession even when the overall economy is growing."
'Chain reaction'
The region also seems to be bucking the national trend when it comes to unemployment.
Figures from the Office for National Statistics last week showed the UK's jobless figure fell to 7.9%, in contrast the unemployment rate in Hull stands at 15.8%.
Last week, vitamins manufacturer Seven Seas said its Hull plant would shut with the loss of 250 jobs.
On Wednesday, Kimberly-Clark announced that 378 jobs would go when it to closes its nappy factory in Barton-upon-Humber next year.
Dr Nolan said there was "scope for unemployment figures to go up further".
He said: "In the worst case scenario you could see other businesses struggling and potentially even further chain reaction of other job losses to come."
'Stuck and stagnant'
Many people in the area seem to be pinning their hopes on the Humber Estuary becoming a centre for renewable energy.
German engineering giant Siemens has announced plans to build an £80m wind turbine factory in Hull's docks.
Shoppers on the streets of Hull seemed to have mixed views on the city's economic prospects.
Media student Jonathan Orrick, 32, said: "A lot of people don't seem to be employed.
"It needs to be creating more jobs with more firms moving to the city.
"It's not really a city on the move. It's sort of stuck and stagnant. It needs a heck of a kick to get it going really."
Fred Mead said the arrival of the renewable energy sector would be a major boost for the area.
"It's a tremendous opportunity and I'm looking forward to seeing that all happen, " he said.
"The potential is here, there's some good opportunities, there's good people, there's a good university.
"It's all there to grab, but it's all jam tomorrow at the moment."