Humberside PCC candidates clash over speed cameras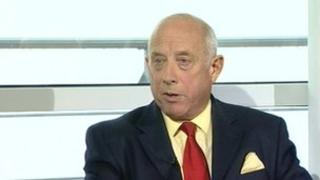 Candidates for Humberside's first Police and Crime Commissioner have clashed over speed cameras.
Godfrey Bloom, UKIP's candidate, claimed "fake statistics" were being used to show cameras had reduced road deaths.
The outspoken Euro MP's remarks provoked a heated row with Labour rival Lord Prescott.
The exchange took place on the Yorkshire and Lincolnshire edition of the BBC's Sunday Politics show.
"I was the minister that looked at this in 1997," said Lord Prescott, who was an MP in the region for four decades and Deputy Prime Minister in the last Labour Government.
"There was 48,000 being seriously injured and killed on the roads. It is now down to 25,000. That was safety cameras.
"Kids have gone down from 6,000 deaths to 4,000. There's a direct correlation between the improvements we've had and safety cameras," Lord Prescott added.
Mr Bloom, a businessman who lives in East Yorkshire has served as a Yorkshire and Lincolnshire MEP for eight years, said Lord Prescott had got his facts wrong.
"These are fake statistics from your government who also bankrupted the country. It's absolutely disgraceful.
"They are cash cows, everybody knows that. They should have been put in black spots and that is the long and short of it and your statistics are wrong. They don't do very much about road safety," he said.
The other candidates campaigning for November's elections for the police force which covers Hull, Grimsby, Scunthorpe, Beverley and rural East Yorkshire, accepted that speed cameras had played a part in reducing death and injuries on the areas roads but said they wanted to limit them to locations where accidents had been a problem.
Matthew Grove, the Conservative candidate and an East Riding councillor, said if elected he would hold a public review of speed cameras.
"Let's be clear safety cameras have played a significant part in seeing road safety figures drop to a very low level.
"But they are a one-hit pony not a replacement for a well-trained observant traffic officer out there on the roads," said Mr Grove.
Former senior police officer Paul Davison, standing as an independent candidate, said there was clear evidence speed cameras helped improve safety but said the public should decide.
"The whole point of PCCs is 900,000 people telling us what they want us to do," he said.
Walter Sweeney, a former Conservative MP, who is also standing as an independent candidate, said the location of speed cameras in places other than black spots was damaging the relationship between police and the public.
Neil Eyre, another independent, made no comment on speed cameras but the former solder from Scunthorpe, told the programme that politics should not play a part in running the police.
Simone Butterworth, standing as a Liberal Democrat, was unable to attend the debate.