Humberside Police officers' receive award for saving thief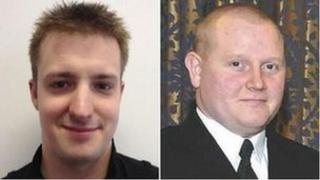 Two Humberside Police officers who saved a thief from a burning car have received bravery awards.
PCs Daniel Hermann and Stephen Caulfield had responded to a report of a stolen car in Hull when they discovered that the inside was on fire.
The car exploded and they saw that a man was slumped unconscious inside.
PC Hermann pulled the man to safety with the help of his colleague. They received their National Police Bravery Awards at a ceremony in London.
The officers were on duty in the city centre when they were called to the report of a stolen car in Northfield Road, which was wedged into an alleyway.
PC Hermann said: "We didn't think anyone was in the car then it exploded and the doors opened and there was this chap unconscious in it.
"I managed to pull him out of the car but I couldn't pull him away from it because he was wedged in by his foot so Steve assisted me to pull him to safety."
The man was later jailed for three years for stealing and setting fire to the car.
After he was convicted, he instructed his solicitor to write a letter thanking the officers for risking their lives to save his.