Seven Seas' Hull factory staff meet bosses over job cuts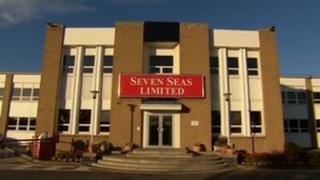 Staff facing redundancy at the Seven Seas vitamins company in Hull have met with management.
Seven Seas announced on Tuesday that production at its plant in Hedon Road would be outsourced and operations transferred to London.
More than 250 people are employed at the site but the firm is yet to disclose the number of job losses.
A union representative said the announcement had "come out of the blue" and that staff were "angry" about it.
Dave Oglesby, Hull organiser for the GMB union, said they were seeking more detail from the company about the reasons for relocating the work.
'Train representatives'
He said on Wednesday that company representatives were expected to talk to staff about the 90-day consultation process.
The firm said there would be a phased shut down of the factory in east Hull over a period of two to three years.
John Redman, managing director of Seven Seas, said managers had met with staff in small groups.
He said: "We will be inviting those who are not in trade union to elect employee representatives, and then we will train them to ensure that we have fully trained representatives to go in to discussions and negotiations with the company.
"Then the process moves forwards for the next three months."