Drunk captain jailed for Goole port ship crash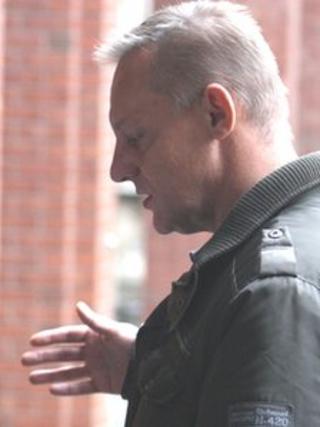 A drunk sea captain who twice crashed his ship into lock gates at Goole port has been jailed for 28 days.
Viatcheslav Poleshchuk, 44, from Rostov in Russia, was also fined more than £1,000 at Hull Crown Court, after he crashed RMS Baerl on 10 September.
Poleshchuk, who pleaded guilty, was four and a half times the limit for drink-driving
Judge Michael Mettyear said Poleshchuk "caused damage and then wanted to have another go".
The judge described his actions as "really disgraceful conduct" and said there was no excuse or mitigation.
He said: "Poleshchuk should have said he was not fit to sail and waited until he'd sobered up."
'Plunge from grace'
Poleshchuk was found to have 157 microgrammes of alcohol in 100 millilitres of breath. The legal limit for driving on UK roads is 35 microgrammes.
Judge Mettyear said there was "always a danger when you have someone drunk in charge of a great big ship" and that there had been no case with readings as high as Poleshchuk's.
The judge told Poleshchuk, who had already spent a week in custody, a "person as drunk as you were should expect an immediate custodial sentence" but praised him for pleading guilty at the first opportunity.
Solicitor Paul Norton, who was defending Poleshchuk, said: "The last week in prison had been a massive plunge from grace for Mr Poleshchuk, especially when you consider that just a few weeks ago he had been a captain in charge of his own ship."
The Maritime and Coastguard Agency welcomed the sentencing and said "being drunk in charge of any vessel is a very serious matter".