Hull road to reopen after repairs caused traffic delays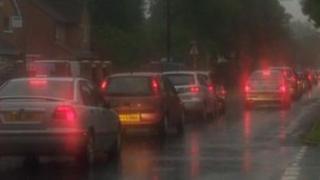 A main road in Hull that was closed for repairs which caused long delays was due to reopen on Monday evening.
Last month County Road North, west of the city, was closed. It followed a series of roadworks in the area that started earlier in the year.
The council said it had completed a large amount of the work ahead of the estimated opening date of 11 November.
But repair work would still continue and temporary lights would be installed to control traffic in both directions.
Last month some motorists claimed they experienced delays of up to 90 minutes during their morning commute after the council shut the road for repairs.
'Contaminated concrete'
The council had apologised for the "inconvenience" but said the closure was to ensure public safety. It also claimed the failure of a railway crossing barrier on Spring Bank West the same day had contributed to the delays.
The council said "many years of winter gritting" had "contaminated the reinforced concrete supporting the bridge" across County Road North.
Graham Hall, assistant head of service for transport and asset management at Hull City Council, said the work had to be done for safety reasons and that workmen had removed some of the damaged concrete.
The council has been carrying out a series of repairs since April and closed a number of roads to traffic including Woodcock Street, Bishop Lane and Princes Street.
Further closures are expected later this year at Wilton Street, St Georges Road and Alliance Lane.
Roadworks are also taking place on the A164 between Cottingham and Willerby.
A number of diversions have been put in place throughout the city.